Shipping
We ship Monday - Friday from 8am -3:30pm Eastern Standard Time.

Expedited Orders must be in by 1pm EST M-F to ship same day.
Remember, UPS ships only on weekdays so Next Day Air orders shipped Friday arrive Monday. 2nd Day Air orders shipped on a Thursday also arrive Monday.
Refer to the map below for time in transit for packages shipped via UPS Ground service. Questions about current stock and availability can be answered by calling 1-800-542-1979 or
email us
.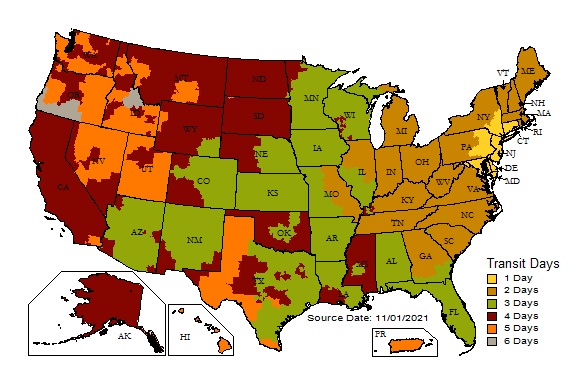 Note: transit time based on items shipping from our main warehouse.
Time may vary for items shipping from other warehouses.
Our standard method of shipping is either Priority Mail or UPS ground service.
Free Standard Shipping for qualifying orders applies to the contiguous 48 states only. Packages will be shipped by the USPS or UPS at the shipper's discretion. It depends on the size of the items being shipped and stock location. Allow 3-12 business days for delivery.
For orders over 50 lbs or with multiple cartons, UPS charges may be higher than the UPS cost estimator figure shown in the shopping cart. The cost estimator in the shopping cart calculates freight based on the total weight of your order.
Some items or very heavy orders may have to ship in separate boxes. Actual UPS charges will be added to your invoice.
Expedited services such as UPS Next Day Air, 2nd Day Air and 3-Day Select are available for most US zip codes.
UPS days in transit do NOT include weekends or holidays. Allow extra time if you are ordering before a national holiday.
Days in transit for UPS service DO NOT include the day of shipping. Example: A 2nd Day Air package shipped on Monday will arrive on Wednesday. A 3 Day Select package shipped on Monday will arrive on Thursday.
Next Day Air orders must be entered by 1pm EST Monday-Friday to ship same day and arrive the next business day. Next Day Air orders shipped on Friday will be delivered on Monday. Please note that there is no shipping on holidays that fall on a business day.
Saturday delivery by UPS is available for Next Day Air Only shipments for an additional $16.00 per package in addition to standard Next Day Air charges. Not all zip codes are eligible for Saturday delivery. Please call before requesting this service.
For orders shipping to Alaska, Hawaii, Puerto Rico or the Virgin Islands, Priority or Express Mail by the US Postal Service is a recommended option. Please request this service in the comments box in the shopping cart.
When possible we will ship Priority Mail orders in flat rate boxes. Product dimensions, stock locations and to some degree product weight will determine if this option is feasible.
International shipping rates will be quoted by e-mail or phone before your order is processed.
Brokerage fees and/or customs charges on international orders are the sole responsibility of the purchaser.