Manasquan How-To Guide Series:
How to Clean and Maintain Ipe and Hardwood Decks with Ipe Oil™
Nothing beats a newly installed hardwood deck. The richness in color is a beautiful accent to any property. As with any wood, your deck boards require regular care to rejuvenate them after they inevitably begin to gray and fade.

Start your annual deck maintenance by sweeping the area clear of loose dirt. Depending on your deck board spacing, you may want to use a putty knife to clear debris from the between the boards.


Image by Deckwise®
Next, use a scrub brush to wash the wood with a deck cleaning solution.
Safety Check: Use gloves and safety glasses during the cleaning process.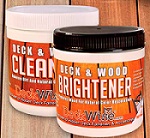 To clean dirty, gray boards, use an oxygen bleach based cleaner. Look for cleaners whose active ingredient is sodium percarbonate. It acts as a detergent paired with an oxygen based bleach. This works well on dirt, mildew and weathered wood. We like to use the Deckwise® cleaner and brightener system.
Troubleshooting:
If you run into stubborn mildew or mold, you can spot treat the area with a bit of bleach mixed with warm water.
If you are dealing with tannins from cedar or redwood or have iron stains, then you want to use an oxalic acid based brightener.
After washing, take a quick survey. If you are not satisfied with the look, you can consider pressure washing. Be gentle to preserve the integrity of the wood. At this stage, you want to go over the deck for any rough patches or splintering. Sand them out. Create your desired surface before applying the finishing oil. We recommend Ipe Oil.
Now it's time to kick back and allow the wood to dry. Give it a day or two before applying your oil. Once dry, apply decking oil with a brush or roller along with the grain of the wood.
Pro Tip: Consider applying with a standing push brush with soft bristles.
This saves your back and knees, especially if it's a large deck!
Avoid applying with a sprayer. The roller or brush is going to work the oil into the wood evenly and allow for better penetration.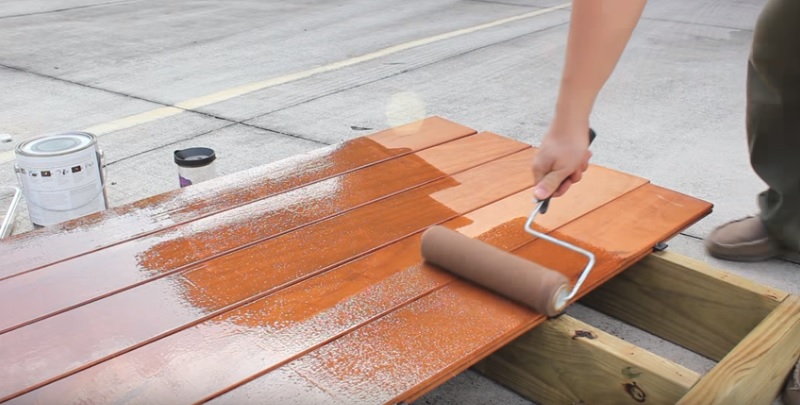 photo credit Deckwise®
Wait 5 to 10 minutes and wipe off excess oil. You want to remove the excess oil before it gets tacky or dry. In most cases, you will only need a single coat.
Clean your brushes and roller with paint thinner and dispose of rags safely. Lay used rags out flat to dry. Keep them out of the sun and heat.
For the complete application guide, visit Deckwise and download a copy.
Words to the Wise - Considerations Before you Start
How often should I perform maintenance on my deck?
It is recommended to perform maintenance every year. Depending on your climate and sun exposure, you may be able to wait a little longer or you may need to care for it more often.
It rained on my freshly oiled deck, what do I do?
Ideally, you want to complete this process when you have a rain free forecast for a few days. If you do run into rain, look for spotting. If you see discolored areas, work the spots with Ipe Oil™ and a rag. If needed, you can always apply a fresh coat. This should even out the surface again.
Can I apply a new coat of oil each year and skip the cleaning?
No. It is necessary to clean your deck before applying oil. If you apply oil without washing, the result will be a very dark looking deck with a little shine.
Have Questions?
Continue the conversation with us, we're happy to help!
Email: info@manasquanfasteners.com
Phone: 800-542-1979
The Importance of Stainless Steel Hardware in Coastal Applications
How to Groove Deck Boards Like a Pro→
Recent Articles:
From the Archives:
View Complete List of Articles
Related Products:
Need More Information?
Contact Bob Dey:
Email:
bob@manasquanfasteners.com
Phone:
800-542-1979