About Us

Founded in 1987, family-owned & operated, Manasquan Premium Fasteners has been serving the residential, commercial & marine construction industries for over 30 years.
Shop with us for access to top national brands at competitive pricing. Our personalized service and expert advice make us the perfect "project-oriented" source to help you get the job done.
Specializing in Stainless
Over the years, we've added many products to our line of stainless steel fasteners. We offer a complete selection of top quality stainless steel & specialty products including:
nuts & bolts
hidden deck fasteners
hand drive nails and nails for nail guns
joist hangers & conectors
Everything but the wood! We will continue to do all we can to provide real value to you with the best quality products and service possible.
Easy Ordering with Speedy Delivery
Online ordering through our secure shopping cart has never been easier! Order when it's convenient for you and have it shipped to your door. We ship with both UPS and USPS. Shipping hours are from 8:00am - 3:30pm EST Monday - Friday. Free shipping on orders over $199*!

Local NJ customers can feel free to come pick up your order in store. We'll leave the light on for you.
Customer Ratings
If you're new to the site, feel free to check out what our customers are saying about us here. We take our time to make sure we help you get what you need, when you need it. Our customer's feedback is important to us. We read every review and take your suggestions to help improve your experience. When you shop with Manasquan Fasteners, you're part of the family!



What Our Customers Are Saying
For those of you who have purchased from us in the past - thank you very much, we really appreciate your business. For those new to Manasquan Fasteners - we welcome you and look forward to being of service.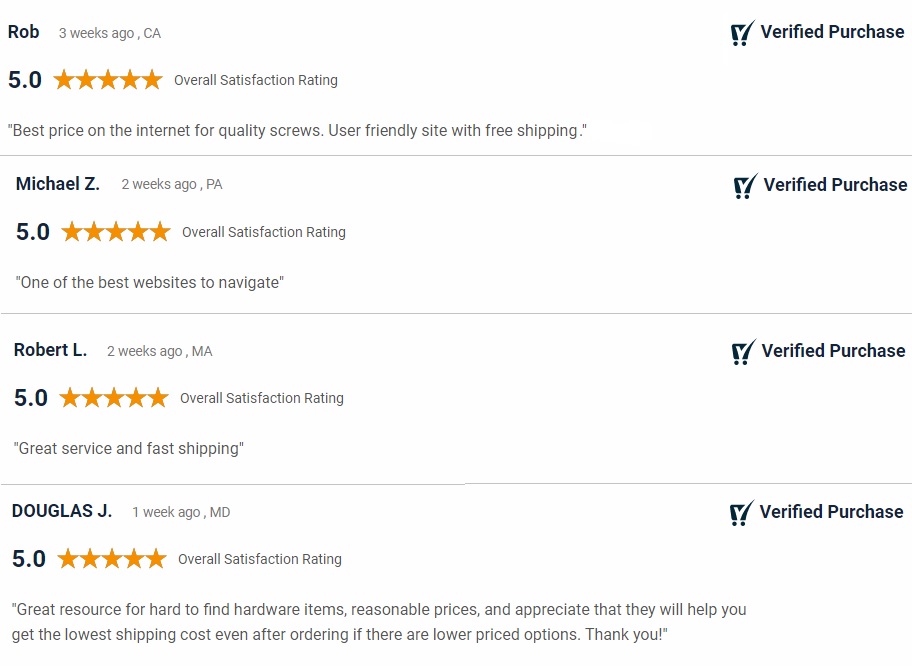 Customer Projects
We work to make the highest quality stainless steel fasteners readily available to our customers. Using quality fasteners results in projects that last. Here are some of the things our customers have been busy using stainless steel fasteners to build.
Our customer Nick from Montana is using our stainless steel hand drive roofing nails to install his new roof.
Jack in the Caribbean put together this wonderful hot tub deck with type 316 stainless steel bugle head deck screws.
Using marine grade stainless ensures that this deck holds up in the salt water rich Caribbean environment.
Technical Help
As always, technical help and special requests are just a phone call away...
Phone:
1-800-542-1979
732-458-4300
Mon-Fri 8am-4:30pm
(Eastern Standard Time)
Email:
info@manasquanfasteners.com
Contact Form
Address:
1129B Industrial Parkway
Brick, NJ 08724
(please call ahead to check stock and availability)
Mon-Fri 8am-4:30pm
Map and Directions